Well well... long time no blog. You might have noticed that I was missing this August from blogger, twitter, etsy, facebook, life, etc etc. I was absent from pretty much everything online and off while I worked on a fantastic
wholesale order
. As one of my friends said, "It's just like having a real job!"
I took a week off once I finished to enjoy the last bit of summer and now I'm ready to get back to business. I've got lots of new stuff planned for Oh So Retro this autumn/winter but that's for another post... Right now I want to share with you:

Six Stunning Handmade Jackets

Just in time for the cooler weather I thought I'd check out the jackets on Etsy and I wasn't disapointed. These 6 are the ones I would most like to have in my closet, next to my black trench coat.


The Botany Coat by brightpirate $80.00
This great damask print jacket is an altered vintage piece in my absolute favourite colour. The short sleeves would look great paired with a skinny chocolate brown turtle neck.



Olive Coat by Little Houses $210.00
I admit I've been smitten with this coat for some time now. The high collar, offset buttons and slight puffed sleeves make it unique yet still classic. Any girl would look darling in this one.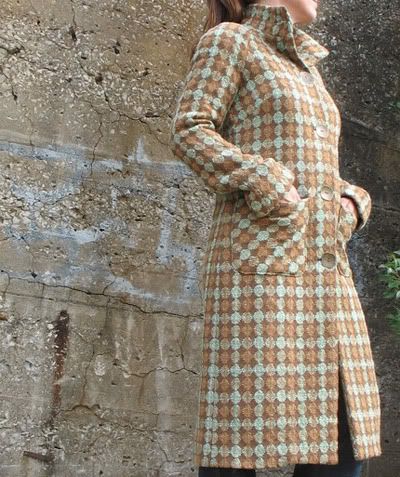 Blanchett Raglan Coat in Vintage Dot by DeNovoStyle $338.00
It's impossible to pick just one jacket from DeNovoStyle, their shop is filled with classic styles and fabrics. This one is my favourite, with the soft colors of the vintage polka dot wool and the big brass buttons. It's the perfect length to wear with your fall and winter skirts.



Little Red Riding Hood by encouragementaward $150.00
Who doesn't love a peacoat? This one is extra sweet in red with it's clean lines, front pockets and 6 big buttons. The best part? The hood is lined with black and white polka dot fabric.



Hooded Swing Jacket by staciemay $231.00
This is a beautiful jacket with a flattering pleated A line shape, big off center buttons and a charming hood. Available in three fabrics, my favourite is the black Vera Wang fabric with ivory starbursts.



Flared Jacket by lunatepetal $185.00
I won't lie, I actually "squeed" outloud when I saw this listing. It's a modern take on the classic grey peacoat with a gathered empire waist and pleated 3/4 length sleeves. The hood is cute too!