The hardest part about going gluten free was losing pizza. It had been my favourite food since I was a kid and something we ate at least twice a month. (Or week, on occasion...)
Thankfully pizza places are starting to offer GF delivery and there are lots of options for buying frozen pizza crusts and mixes these days. It's hit or miss though, some of it tastes like cardboard and many of them are full of weird preservatives. I've bought bread with a two year expiration date.. that's just wrong.
I've adapted this recipe for Pizza Dough from the Betty Crocker New Edition Cook Book. You can use any gluten free flour, either your own mix, straight rice flour or a bread mix. I use Celimix White Bread Mix as my regular all purpose flour. This recipe will make two round pizzas, I "half double" it, to make 3 pizzas. One big one for my boyfriend and one small one for me.
Pizza Crust:
2 1/2 to 3 Cups Gluten Free Flour
1 tbsp sugar
1/2 tsp salt
1 package quick or regular yeast (equivalent to 2 1/4 tsp)
1 tsp guar or xanthan gum
3 tbsp olive oil
1 cup very warm water
Preheat your oven to 375.
Mix 1 Cup of the flour, sugar, salt, yeast & guar/xanthan gum. Add oil and warm water. Beat with mixer on medium for 3 minutes, scraping frequently. Use your batter beater, not the dough beater. Stir in enough remaining flour until dough is soft and leaves side of bowl. I always mix up these steps, either I add all the flour at once or I don't beat it long enough, etc. It's very forgiving, so don't worry if you dump in all 3 c of flour at once accidentally. (I've done that more than once.)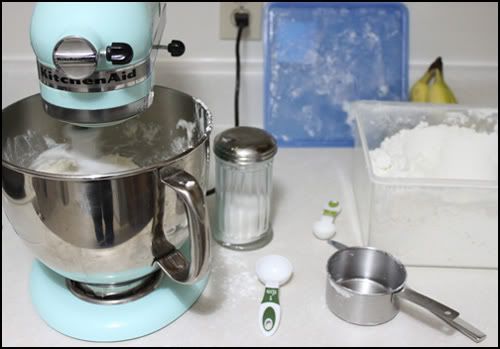 Divide dough and scoop it out onto a well greased baking sheet. Dust your hands with your GF flour and press it into shape with your fingers. I use a bit of oil on my fingers too. I make my little pizza into a circle and Randys double pizza fills up the whole baking sheet. I press these fairly thin because they will rise up a bit in the oven. Brush a bit of oil around the edges and place the pizzas in the oven for approx. 8- 12 minutes. You will know it's ready for toppings when the dough looks dry and starts to crack.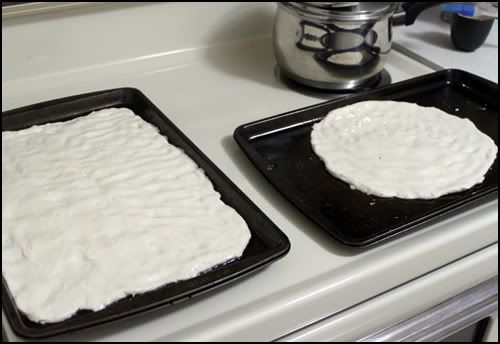 Load up your partially baked crusts with toppings. I like cheese and basil and Randy likes cheese, pepperoni and sundried tomatoes. You can pretty much put anything on these pizzas, but if the topping is wet, like mushrooms, it's good to put it on during the last 5 minutes of baking.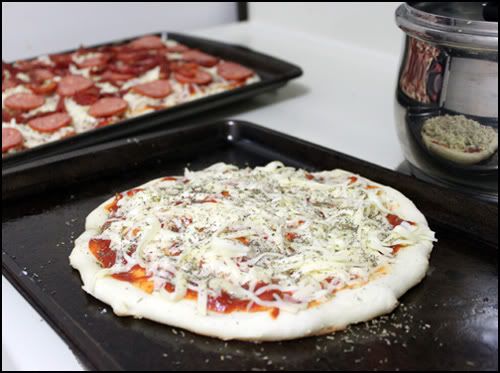 Bake for an additional 10 - 15 minutes. I like to turn the broiler on for the last few minutes to brown up the cheese. These make a nice crispy crust that's got the right amount of chewiness to it - that's something that is usually missing from gluten free baked goods.
Enjoy!