I discovered Larabars recently while looking for some help to get through my workouts without feeling weak afterwards. I had tried protein shakes but found them too chalky. Boost is good but it's also expensive. Larabars were like a godsend because they were gluten free, rich in protein without being full of crap and delicious. I could eat one (or two) every day.. if I could afford it.
Looking at the ingredients on the Peanut Butter bars (dates, peanuts, salt) I realized that I could probably come up with my own version. A quick search on google confirmed that homemade Larabars are easy to make & just as good as their name brand counterpart.
I picked up a package of "red value" brand pitted dates today for $2.99 and a bag of unsalted peanuts for $3.50 at my local Safeway. I wasn't sure if these were the right kind of dates - they had larger unpitted ones for $15/box but these ones were nice and sticky and worked great.
I used about 3/4 C of dates (loosely packed) and 1/4 cup of peanuts along with a dash of salt and a splash of vanilla for each batch. This is the kind of thing that can be made to preference, more dates for sweeter bars and more peanuts for saltier. Some recipes I found called for cocoa powder for a fudge version.
I made two batches, the first one I made by mincing the dates first and then adding all the other ingredients and the second batch I tried putting all the ingredients in at once. I recommend doing it the first way as the peanuts were not chopped as finely in the "all at once" method. I shaped them into bars with saran wrap and put them in the fridge.
I made 5 bars with just under half the bag of dates and barely any of the peanuts for a total of $2. That's just twenty cents a bar. Now I can indulge in two a day, guilt free.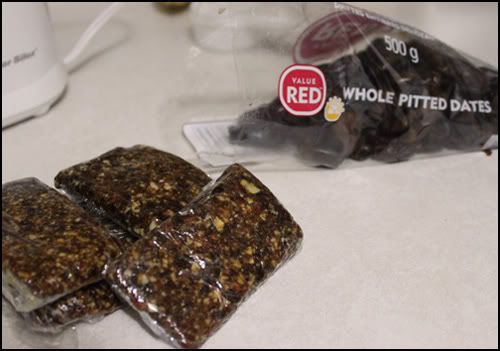 Let me know if you try making your own Larabars & any variations you make. I'd like to try a version with cashews, and maybe one with shredded coconut.